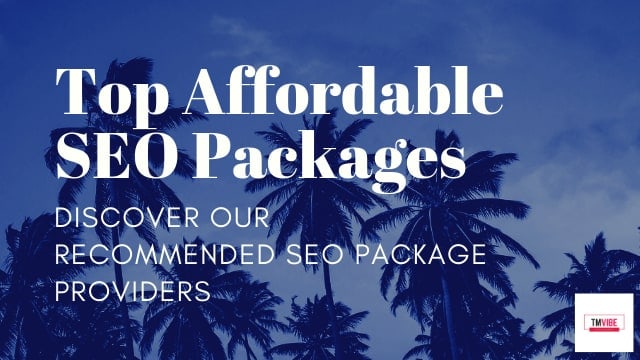 In this article we're going to be discussing the most affordable SEO packages that are available on the market, whilst also ensuring that you (our readers) are getting access to high-quality providers.
SEO is the act of optimizing a website (both on-page and off-page) for it to appeal more favorably to ranking algorithms and Google's AI RankBrain. This, in turn, helps a website rank higher in the search engine results for keyword terms and phrases that users would search for, if they wanted to find your particular product, service or information.
Therefore, it's extremely important that webmasters and business owners not only find SEO services which are affordable, but also ones that are of high-quality.
How have we chosen the following Affordable SEO Service Packages?
Firstly, we're a digital marketing agency and we like to constantly test different marketing strategies.
However, for us, SEO has a large ROI and therefore we like to use this for our own sites and client sites.
With that being said, we like to test different SEO providers + packages for a number of reasons, firstly to see which one provides us with better ranking results and ROI, and secondly, because it allows for us to make case studies which we create for our site. You can find an example of our most recent case study here: The Hoth Review – SEO Case Study
We don't stop there! We like to also look at previous customer reviews of particular SEO packages and singular services, which gives us even more accurate insight into the quality of a provider's services.
Therefore, you can rest assured that we've done our research and any of the following SEO services will be great to choose.
What's included in an SEO Package?
The answer to this question largely depends on two factors, firstly your requirements, do you want just on-page SEO, off-page SEO or a combination of optimization approaches.
Secondly, your budget, and since we're focusing on affordably-priced SEO Packages, we'll assume that you don't want to spend more than around $500 per month on SEO services. <$500 would be considered a cheap SEO package, but don't be fooled, we're only featuring SEO providers which have a glowing reputation within the industry and get their customers results.
However, with most businesses, they're really not sure what SEO aspects their website is missing or deficient on….
Therefore, we've displayed the SEO agencies that will provide initial consultations and how much they charge for this (don't worry, the first agency on our list provides a free consultation, where you can discuss all of your questions with an SEO expert)… Winner!
Ok, with all that being said, let's get to talking about who offers the most affordable SEO service packages!
Quick Readers Guide
This section is for those who don't want to read all of the article (which if you have time, we highly advise that you do).
As we expressed, all of these SEO agencies provide high-quality, affordable SEO packages. But here's our brief verdict on each one:
Top Affordable SEO Packages
The Hoth – For Link-related SEO packages & US-based Content Services – 5/5 Score
SEO Reseller – For On-page, Off-page and Technical SEO packages, alongside PPC, Social Media Management & Link Cleanups – 5/5 Score
FatJoe – For Link-related SEO packages & US-based Content Services – 4/5 Score
Affordable SEO Service Packages

SEO Package Details:
On-Page & Off Page SEO
Specialize in providing Link-Building Services
Offers Organic & Local SEO Packages
Free Initial Consultation
Live-Chat to ask questions (when signed in)
White-Label Reporting
Pros
Fantastic US-based customer service & support
Proof of providing SEO results with their case studies

We've included a link to our personal case study using their services below.

Provide a variety of off-page SEO solutions
Cons
Limited on-page SEO solutions, particularly technical aspects, unlike competitors such as SEOReseller (which is discussed further below)
---
The Hoth is an SEO service provider which has been around since 2011.
They are primarily known for providing a range of Organic & Local SEO packages
We have been personally using The Hoth for nearly 2 years now, and have experienced major success with their Hoth X 500 service, which is priced at $500 (although we got a considerable discount with purchasing 9 months of Hoth X for our websites).
The Hoth have some fantastic pricing options, as they're often used by large agencies looking to resell The Hoth's products to their own clients. Because of this, The Hoth's pricing is considerably less than other agencies, which are most likely just resellers.
As we mentioned, we've written a Hoth review case study highlighting our results (both this year and last year) from using their services… For those who don't want to read this, we had great success and are still using the company today.
With that being said, you can create an account on their site by just entering your email and some other information, and then arrange a consultation.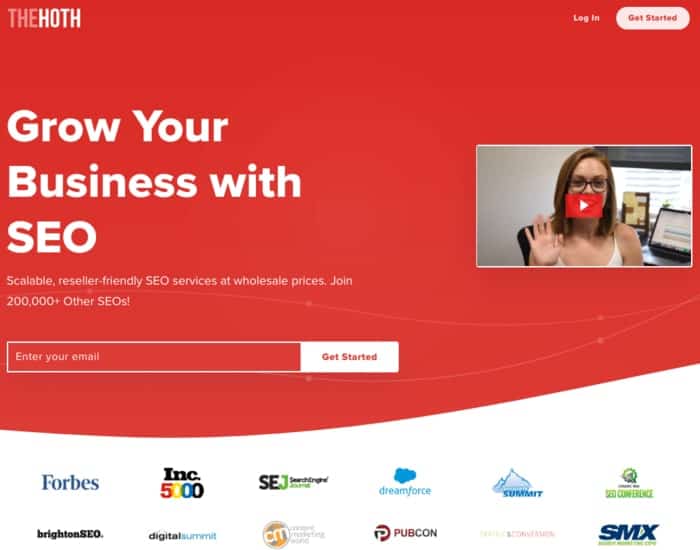 Additionally, as we touched upon, we use their Hoth X service, which is a combination of their singular products, which for us included the following products:
Hoth LMB – Social media account creation) – We usually have 150+ social accounts be registered to link back to our sites.
Hoth Foundations – Web 2.0 creation & link-building.
Hoth Guest Post – Where the company outreaches to other relevant websites with a high Domain Authority, to secure backlink placements on these sites.
Hoth Blogger – Content is created for your blog. However, we now use UpWork for all our content needs, as we find that we have more control surrounding who's actually writing the content.
Here's an informational video created by the company to describe the process behind their Hoth X package:
For more information about their SEO packages, visit TheHoth.
---
On-Page & Off Page SEO
Specialize in providing Low-Cost, White-Label SEO Solutions
Provides Organic & Local SEO Packages, Web Design, PPC, Link Cleanup
Initial Consultation/Audit
Live-Chat to ask questions (when signed in)
White-Label Reporting
Pros
Great customer service & support (Open 24 hours / 5-days per week)
Proof of providing SEO results with their case studies [300% increase in organic traffic in 6 months]
Provide a wide range of services, including full web design, SEO & PPC packages, content marketing, social media marketing & brand design.
Best value-for-money link building services
Plenty of technical SEO solutions, all of which are manually analyzed and evaluated whether or not they're needed upon a consultation with the company.
Cons
We can't see a downside to their SEO packages, since the company are meticulous in their providings.
---
SEO Reseller is a company who've gone from being generally unknown SEO service provider (a few years ago), to being one of the market leaders.
Some of the key reasons that SEOReseller have been able to do this is because of the following:
Their services are priced at white-label / reseller price-points
They use data-driven methods for building and running campaigns due to the number of agency clients that they have, it means they deal with a diverse range of sites
Their service providings are unique, being one of the only SEO reseller providers that offer a full package service, including website design, restructuring, organic SEO (technical seo, content & link-building), local SEO, PPC and more.
Because of this, SEO Reseller is a go-to SEO provider for the majority of SEO agencies and business owners who're looking for an affordable, one-stop SEO solution.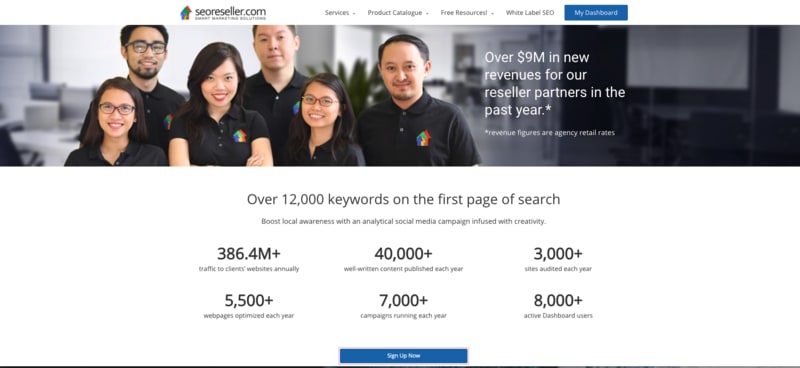 As we mentioned, they provide a range of services, from web design, through to SEO & PPC… Which means that not only will you be able to get SEO services, but these services cover structural and technical SEO optimizations… which the two other companies (The Hoth & FatJoe) simply cannot provide or compete with.
These structural & technical changes are extremely important, especially when it comes to optimizing your SEO rankings.
Therefore, having a company such as SEOReseller which have technical specialists that regularly coordinate these kinds of optimizations is an advantage.
We're actually looking into using the company more for audits and technical SEO optimizations, both for our privately owned sites, and for our sister company's clients. As we've only heard great things about SEOResellers services.
For more information about their SEO packages, visit SEOReseller
---
2) FATJOE – 4/5 Score

Off-Page & Content Services
Specialize in providing Link Building & Content Services
Provides Link Outreach, Local NAP citation building, Media placements, Infographic creation & content marketing services
Live-Chat to ask questions
No initial consultation, although they do have live-chat and email contact if you require advice on SEO packages to choose from
White-Label Reporting
Pros
Customer support is available via live chat & email
"75% of emails inquiries are handled and responded to within 1 hour"
Score a 97% customer satisfaction score from customers, averaging 4.9/5 in their overall ratings.
100% money-back guarantee
Cons
No particular case studies provided by the company to show successful campaigns
Don't provide technical or on-page SEO services
FATJOE is another industry leading SEO company, specializing in providing their customers (mostly digital marketing agencies) with white-label (brandless), off-page SEO services, including blogger outreach, press release distribution, media placements, etc.
Not only this, but FATJOE also provide a small range of content creation and marketing services, including their content writing service, infographic design and outreach.
They are known to be a very reputable company, being regularly mentioned by large SEO entities within the industry, including SMX, Smart Insights, Brighton SEO, Moz and Pubcon.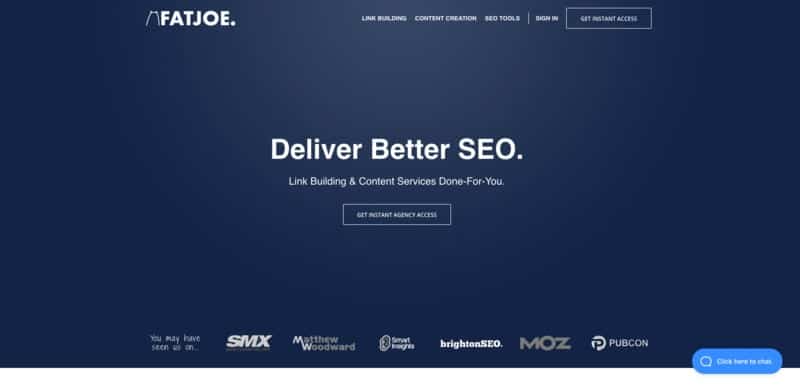 The website and ordering interface is also very easy to use, and they provide comprehensive reports, whether or not you're using the company for your clients or your own websites.
Another nice feature is that the company have stated that 75% of email inquiries are handled and responded to within 1 hour, which means that if you ever need customer support, you won't be waiting long for it.
Conclusion
To conclude this article, we wanted to provide some personal recommendations that we have, especially for those who are looking to use these kinds of SEO services in the long-term.
If you are dealing with a website which has never had SEO services, or you suspect that there are on-page & technical/structural issues…. then using SEO Resellers Affordable SEO packages will be the most suitable option for you. Since it combines both on-page and off-page SEO services, all for a very affordable price.
Afterall, buying links without sorting out technical, and structural SEO issues is like adding nitrous to a 50bhp car… It's just not going to work well.
None-the-less, we like all of the providers, as we personally use The Hoth a lot, because we like their link-based packages.
If you have any questions, or want advice on any particular packages that we think would be suitable for your website, send us an email at themarketingvibe (@) gmail.com and we'll reply ASAP to lend a hand.
Editor's Summary
The Hoth – For Link-related SEO packages & US-based Content Services – 5/5 Score
SEO Reseller – For On-page, Off-page and Technical SEO packages, alongside PPC, Social Media Management & Link Cleanups – 5/5 Score
FatJoe – For Link-related SEO packages & US-based Content Services – 4/5 Score