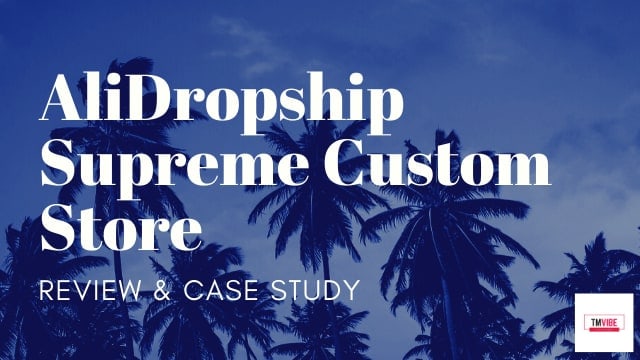 Last Updated: 22nd January 2021
In this article we're going to be doing a review of AliDropship's Supreme Package, discussing what's included, the unique features, benefits and also looking at an actual store that has been created using the service.
If you happen to be in a rush, here's an article summary:
---
Article Summary: AliDropship's supreme package is the creme-de-la-creme of dropshipping stores that the company provides.
It's best suited for those who want a complete, done-for-you solution, but aren't afraid of investing a good amount of dollars to get a fully set up, ready-to-go dropshipping store.
To make things even better, AliDropship has provided us with a 15% discount that we can offer to our readers, so use it whilst it lasts!
---
Therefore, without further ado, let's review the supreme custom store alidropship package.
What is the AliDropship Supreme Package?
The AliDropship Supreme Custom Store service is AliDropship's more premium-priced custom store package.
It's considered to be AliDropship's one-stop dropshipping solution, and comes with more added products, features and functionality than other less expensive packages.
What's included in a Supreme Custom Store?
Niche research
AliDropship plugin
Theme
Domain name
Logo design, banner, and favicon
Home page text
Pricing formula
500 products

Title, description, and keyword editing

On-site SEO

Sitemap
Robots.txt
GA integration
Homepage SEO-optimized article

Promotional video
Social media accounts (YT, Instagram, Facebook, Twitter)
Social media promotion tool
Several add-ons

Abandoned cart
Promotional banner
Review page
Email form integration
Lead generation form
Promotional email setup
Done-for-you ads – Facebook & Instagram
Social media posts
What are the benefits of getting one?
There are several benefits of purchasing a supreme custom store, these include:
Save time – Your supreme store is created entirely by your personal manager, who is an experienced dropshipping specialist at AliDropship. This means that you can go about working on other aspects of the business, or just relax.
Have a specialist create the store for you – There is a reason why people outsource, and that's because by using a specialist, you can do things twice as good, in half the time. This means that your store has a much higher chance of succeeding.
Includes all of the add-ons to create a highly CRO optimized store – AliDropship includes all of their add-ons in this package, and thus you'll get a store that is highly optimized for converting visitors to buyers.
We've included a 15% discount code here – Get Discount here
What are the downsides?
The one downside of purchasing such a store is simply the initial cost, as it's $2464 with the 15% discount coupon. If this is too much, you can take a look at their other alidropship custom store packages here.
Then again, if you don't have much time or experience, and have money to invest in a store, then this may be a suitable option for you!
As we initially said, time is money and so we can understand why someone would want to invest in the supreme custom store. After-all, it comes with all of the bells and whistles and is fully functional.
Case Study – Actual Store created using the service
URL: underbeauties.com
Store Niche: Women's underwear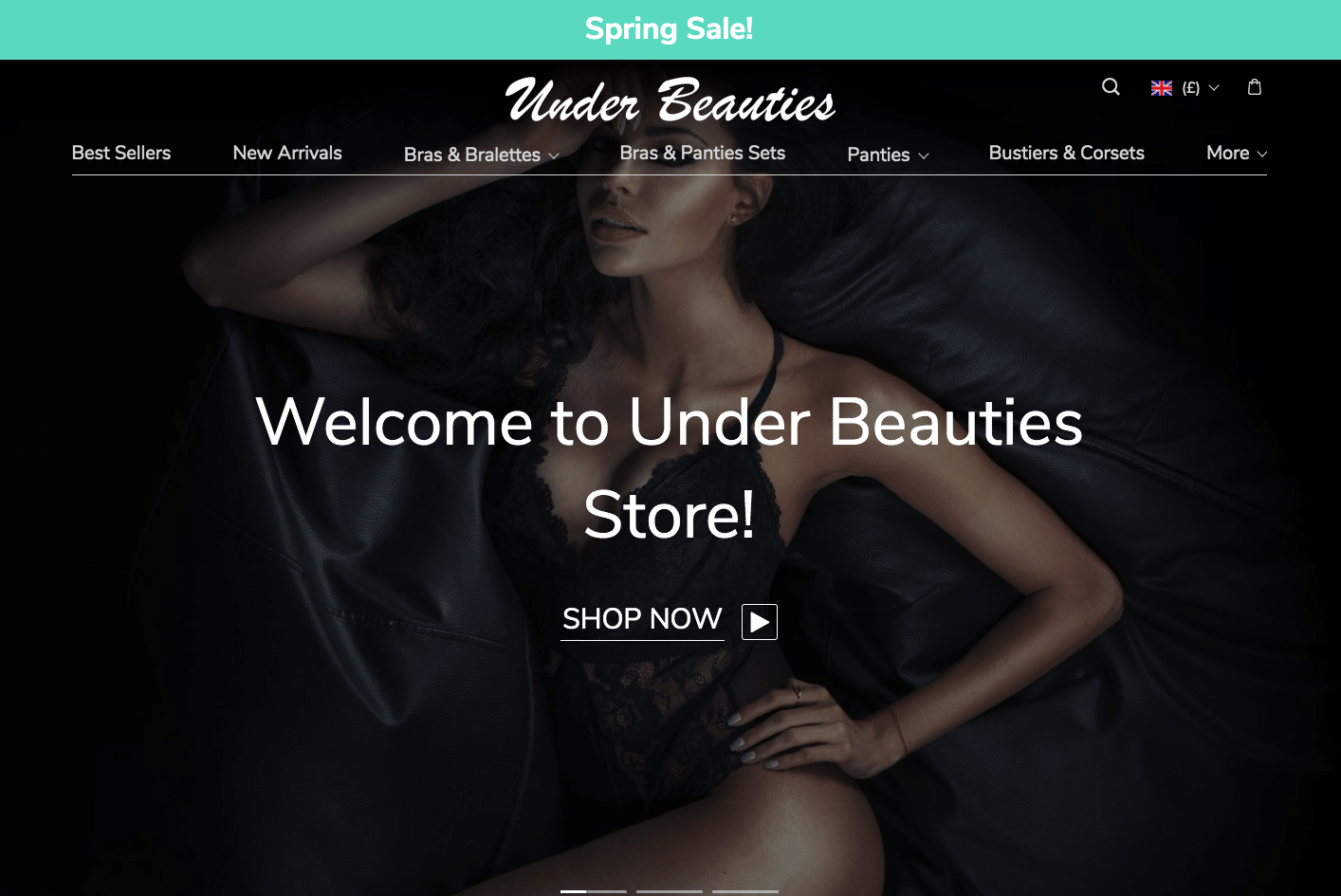 How do I know it's a store created using the Supreme service?
As a business, we regularly use AliDropship to manage our own dropshipping stores, and therefore we regularly visit the AliDropship forum to gather new information on theme updates and general developments.
We recently saw someone post on this AliDropship forum post that they were selling a website (UnderBeauties.com) which they had gotten made for them by AliDropship, through the supreme custom store package.

What's our Verdict of the Store?
We've provided some general, user experience and SEO observations, as you can see from below:
General Observations
The store looks extremely professional, and from an aesthetic view, it does a good job in suiting the niche that it's in, with suitable banner images and content.
Given that the store is the product of the supreme package, it has a lot of products, which really helps give it an authentic store feel, and a lot of choice for the visitor.
UX/CRO Observations
One of the particular features that we liked is found on the product pages, where it displays how many people have viewed the item, added it to cart, and subsequently purchased it. This helps to add social proof and legitimacy to the brand and store.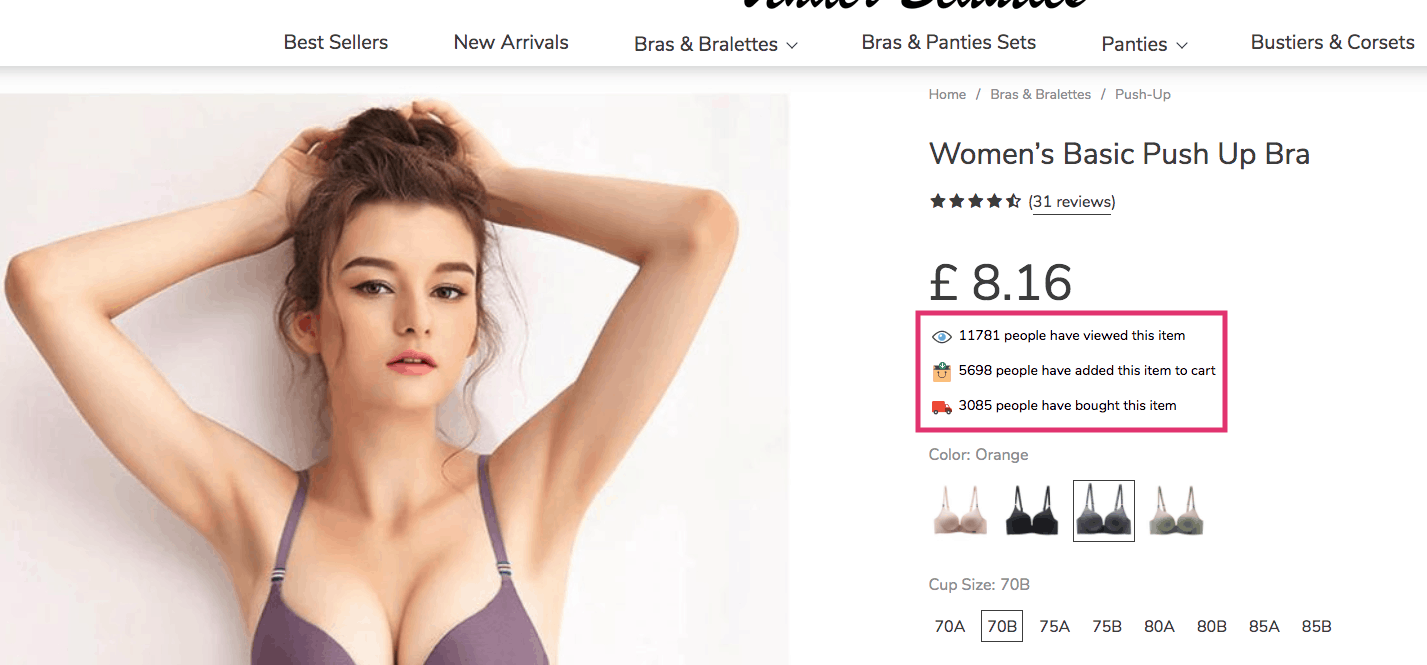 Another nice aspect that we liked was on the checkout page, with there being a timer to create a sense of urgency on the purchase… Alongside some trusted store icons from McAfee and Google, which also help to increase conversions.
Both of these features come with the Supreme store.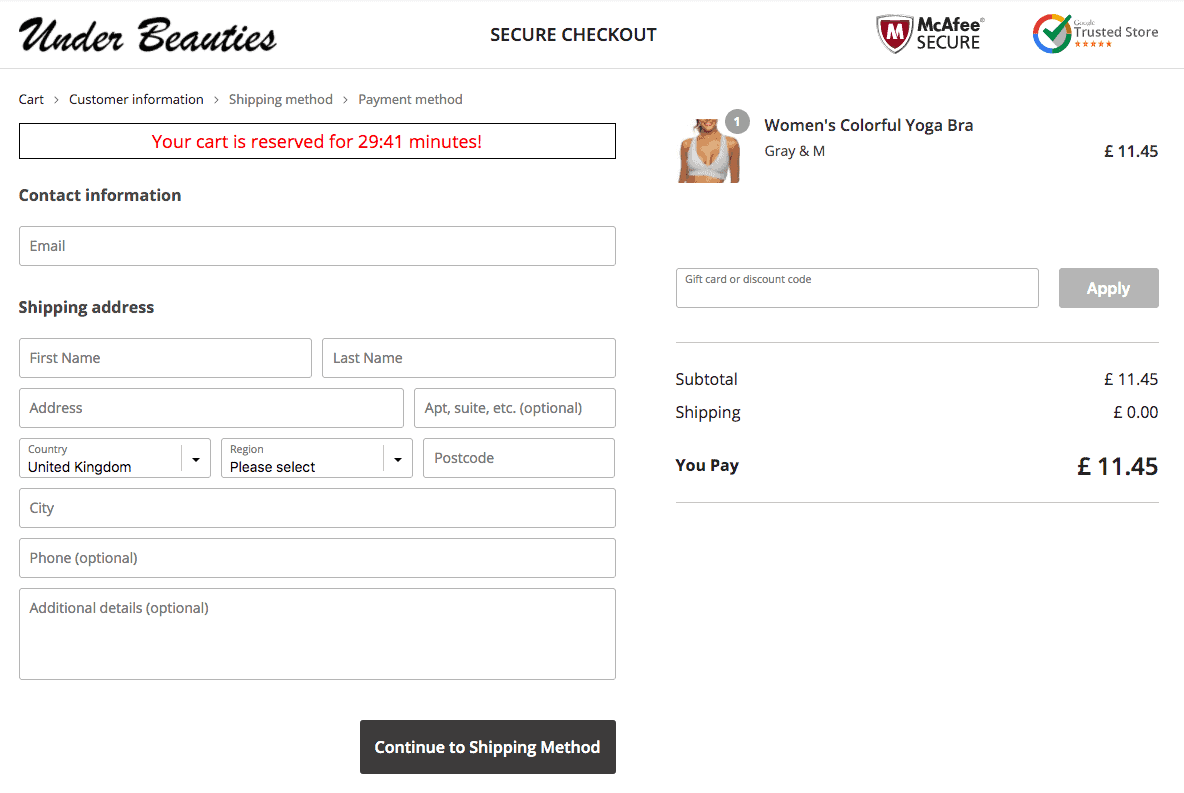 SEO Observations
As far as we're aware, the store has not been getting organic search traffic up to this date. How do we know this?
Well, Ahrefs tells us that the site is not currently ranking for any keywords.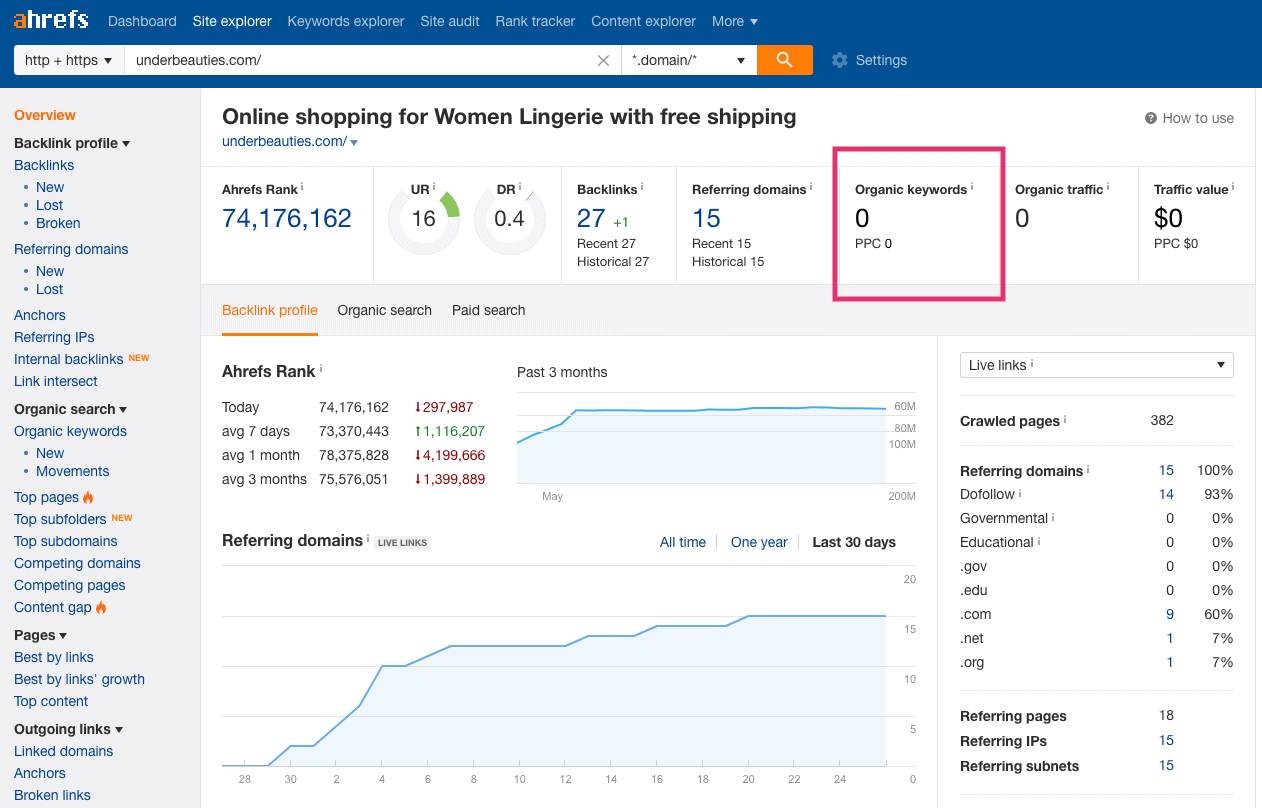 However, looking more into this, the domain was registered on the 15th April 2020, so it's extremely new… Which is why the site is not ranking for any keywords yet.
KeySearch is another tool we use to track our competitor's keyword rankings.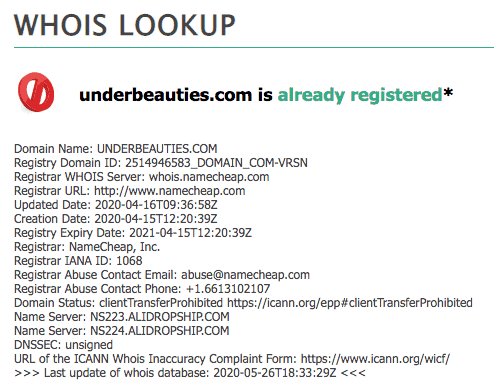 For those who may not be aware, it can take anywhere from 6-12 months for a website to rank well for keywords that we would consider 'medium competition' keywords.
To ensure good organic SEO rankings, we recommend sites try to get 50+ indexable pages (both category and blog pages) and gain links from approximately 100+ referring domains (good high authority sources).
None-the-less, we can see that the site is gaining backlinks, and this is certainly a good sign.
AliDropship Supreme Package Discount
We've included a 15% discount code/coupon below:
How to manage your dropshipping store
You can read our guide on managing a dropshipping store which includes an overview of exactly what you should focus on, alongside the tools that we use within our own business, to manage our portfolio of dropshipping stores.
If you have any questions to comments, please leave them in the comments section below.
Summary
Reviewer
Review Date
Reviewed Item
AliDropship Supreme Package
Author Rating





Product Name
AliDropship Supreme Package