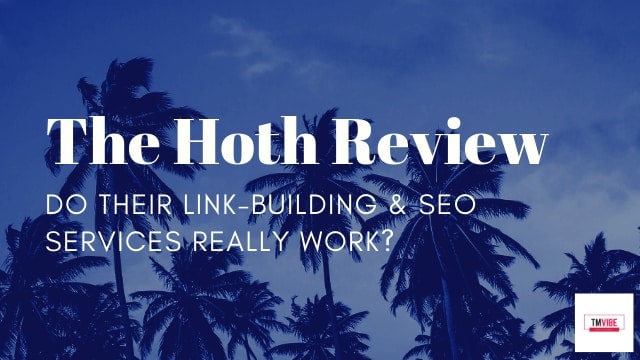 A Comprehensive Review of The Hoth's SEO Link-Building & Content Services in 2019.
Last Updated: 24th August 2019
In this article, we're going to be reviewing a range of SEO & Content service packages from The Hoth, who is a digital marketing company based in St Petersberg, Florida.
A little bit of information about the company themselves, their brand name The Hoth is actually an acronym for 'Hittem Over The Head', and it describes their entire business model, to get things done and actually provide their clients with real results, unlike a lot of digital marketing companies within the industry.
Upon reading more into the company, their core values lie in putting their customer/clients first, giving emphasis in providing high-quality customer support, and giving you confidence that they'll be with you throughout every step of the way.
As you'll find out, from my experiences with using a range of their services, they certainly deliver with exceptional customer support… With a large thank-you to my account managers Joe & Jacob, who are delightful to work with.
We were particularly surprised but equally impressed by the fact that The Hoth doesn't tie their clients into any contracts! Instead, it puts the responsibility on the company to themselves to provide results, to prove to you that it's in your best interests to stick around.
So, without further ado, let's talk about The Hoth, and whether or not we enjoyed being Hoth'ed or not!
SEO Service Provider
SEO Packages that we've used to date
Hoth Link Building Packages
HothX – Managed SEO service which incorporates many of their link-building and content creation services, based on your website needs.
Hoth Foundations – Small, Medium & Large – Standard English
Hoth GP (Guest Post) – DA20, DA30 & DA50 links
Hoth Boost – Small & Large Boosts
Hoth Private Vault – Now Discontinued, Hoth GP has replaced it
Hoth Press – Standard press release & distribution service
Hoth Special (Offered as Upsell) – EDU/.GOV Tier 2 Backlinks
Other Hoth SEO Packages
Hoth LMB (Lock My Brand) – LMB 50, LMB 100 & LMB 300
Hoth Blogger (1000 word & 2000 word articles)
As you can see from above, we've used a range of their commercial SEO and content packages. Therefore, we believe that we have enough experience using the company's products to provide a detailed review of The Hoth's SEO packages, and describe the quality of the services as well as the results that can be expected.
How exactly are we measuring our tests, well we're using Google Search Console to see average impressions, CTR, position, etc whilst we're also using our agency rank tracker software, AccuRanker, to measure daily fluctuations, which is a great rank tracker for both business', agencies and entrepreneurs, with the different price plans they have available.
Packages we've been testing
Hoth X (6-Month Package) – 2-year-old website [Started campaign in February 2019]
Hoth X (6-Month Package) – 1-year-old website [Started campaign in February 2019]
Overall Update:
Ok, so we started using The Hoth in February, which means that 6 months has now passed (it's 11th August as of writing this).
Well, the results are in, and so I bet you're interested as to what the outcome of the test shows. 
First, before we dive into the overall results, it's important to recognize that off-page SEO is only half of the equation here (and the smaller half), as, without a decent amount of high-quality content, you're just not going to rank well.
I say this because, both websites that we used The Hoth on had adequate SEO, but were very small websites, and had not previously been linked to much.
Both websites showed some good initial movement for a number of the focus keywords. This is because the initial link-building strategy included some exact-match DA50 links, which were directed at 'quick win' URLs, alongside some web 2.0 links to provide a level of diversification.
However, progress has been a little slower on one of the sites (#1), due to me having to make structural URL changes due to keyword cannibalization issues that arose.
---
The Hoth Review – (#1)
Hoth X (6-Month Package) – 1-year-old website
3-month update (April 2019)
Here is a screenshot from one of the website's on Hoth X, showing one of the focus URLs ranking for its main target keyword.
The screenshot shows the impressions (turquoise) and clicks (blue). This page is heavily optimized for a keyword that gets around 6000 monthly searches, and I've gone from ranking around position #10 to #6 in just over 1 month and 15 days.
With that being said, the strategy has included a lot of web 2.0 link and the page has had 2+ high DA50+ links.
We're only a month and a half into the campaign and I'm seeing a good level of improvement. 
Here's another screenshot showing the overview of impressions, clicks, CTR and average position for this target URL.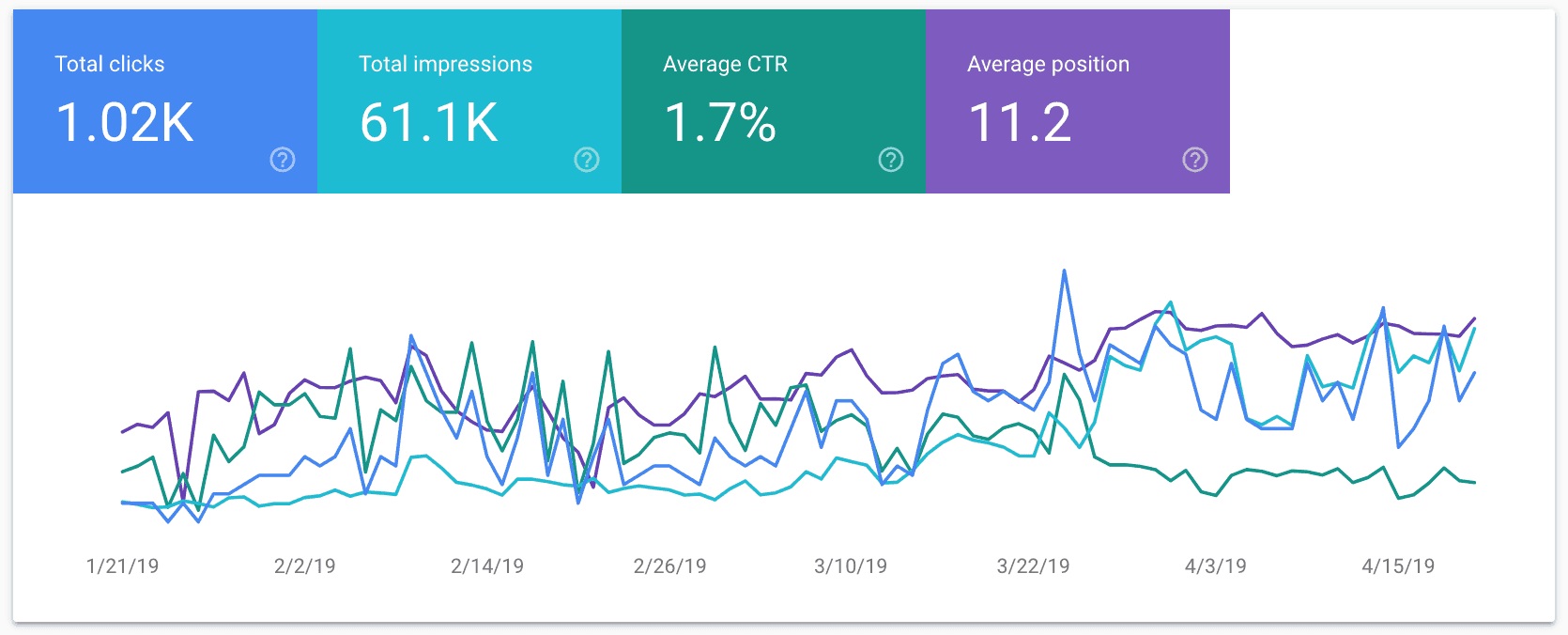 As you can see, the page is improving on its average position, and is well into the top 5/6/7 positions for its target keyword terms. The CTR has taken a drop, which is normal as impressions have increased dramatically (CTR = Clicks/Impressions).
I expect the CTR to increase as the page approaches position 3, and I'll be doing more tests to increase this. 
6-month update (August 2019)
Ok, so 6 months in, what happened? We received our May report and then "crickets", we didn't receive anything in June or July.
Well, it turns out something went wrong on The Hoth's end, as far as managing their orders, so what did they do… They gave me 1-month of Hoth X extra, for free!
So make no mistakes, The Hoth have great customer support, and I was extremely happy after this.
However, you want to see results right?

Other than the anomaly seen in April, you can see that overall, there has been steady growth in the last 12 months, and the addition of link-building has helped with this growth.
Now, there's not been as many clicks as we'd like, so we need to go back and look at optimizing the Meta Titles and Descriptions for CTR purposes because as you can see, impressions are increasing more than clicks.
Now, when we look at the last three months:

There hasn't been too much movement in the last three months, and we think this is because of some on-page issues are limiting the site's potential to grow. Not only this, but this particular site has seasonal interest, and so we'd be ignorant to not consider this being a factor too.
The Hoth Review –
(#2) Hoth X (6-Month Package) – 2-year-old website
3-month update (April 2019)
The screenshot below shows the progress made after 2 months of using The Hoth X on one particular URL. 
This particular URL is optimized for a keyword which gets around 400-500 monthly searches, but provides us with a good return on investment, hence why we want to rank it for the keyword.
The page is targeting a keyword which is rather competitive, and in January (before using Hoth X) it was hovering around page 3 (position 22), in March it was able to achieve a page 2 (11/12) position,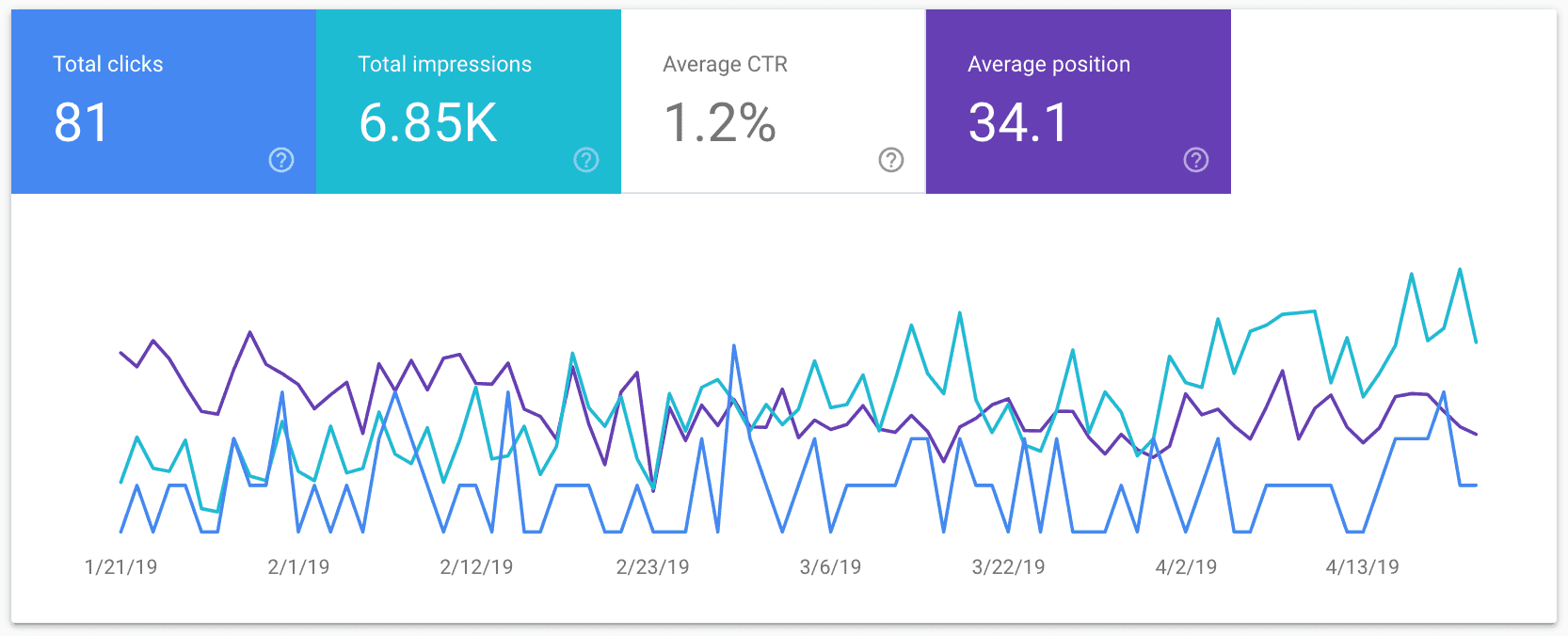 However, now in April, the URL has started ranking for a lot more keyword phrases, hence why the average position of all the keywords has dropped slightly. 
Impressions and overall clicks have increased upon last month as the page has climbed the rankings for its main, target keyword term… Which is currently fluctuating between position 5 and 8.
I expect that the page achieves a top 3 position in the next month. 
Also, as it continues to climb the rankings for both main and long-tail keyword terms, I expect that CTR will increase, but things are looking good so far, with clicks having increased month on month.
The keyword is worth a lot for me to rank on page 1 for, so I plan to continuously target this URL with high-quality link-building. So far we've used 3 guest posts and over 20 web 2.0 contextual links.
6-month update (August 2019)
So we've finished the 6-month Hoth X package, and here are the results.
The screenshot below shows the last 12 months of the site's performance, and as you can see, The Hoth's link-building has really helped increase impressions and clicks.

And similarly to the first website, during the later months, we haven't seen much further growth. I think that this is because I need to go back through and optimize the content, including the metadata, to see if we can improve CTRs.
After all, when you get onto page 1, your site's user metrics start to take a more predominant factor, in whether or not you'll get that #1 position. So making sure that your page's CTR is high, and repeatedly optimizing this is extremely important.

None-the-less, we've been happy with the progress that we saw from using The Hoth.
However, before jumping into using a link-building service, we advise making sure that you're constantly adding new content to your website, and you're optimizing your current on-page SEO.
This way, both your on-page and off-page work in synergy, for you to get the best ROI.
In addition, don't just take our word for it, The Hoth have plenty of customer testimonials available for you to see, and we've featured them below:
The Hoth Customer Reviews & Testimonials
Find out more information on their website, featured here: thehoth.com
---
In the meantime, you can read our original review below if you're looking for more evidence that The Hoth's SEO services are good.
---
Hoth Review & Case Study (Last Year)
The last time that we used The Hoth's SEO and Content services was around April 2018, and as you can see from the results (featured within the article), we had great success using The Hoth X service.
However, because it's been over 8 months, we thought that we would purchase some more of their services, and create a brand new Hoth Case Study article, with one major difference… We want to test The Hoth X on multiple websites simultaneously.
With this being said, we'll be testing a combination of their different SEO & content packages which feature within the Hoth X managed service, and so we'll be doing monthly updates of the ranking progress that the site's experience, which will include screenshot proof of the orders.
We will not be showing the actual site URLs, as we recently heard about another SEO who released an SEO case study to his blog readers, and his blog was targeted with a negative SEO attack… For those who don't know what this is, it's an attempt by the few, awful people who send low-quality, spam links at your website, to disrupt the site's rankings and cause havoc.
And whilst we're sure that 99.9% of readers are simply reading this for more information, we want to limit the risks, whilst also negating any variables (such as direct traffic from our blog) which could potentially aid or disrupt our ranking results… After-all, we want to create an accurate case study.
Therefore, over the fore-coming months, we'll be updating the article (monthly) based on the progress that we see.
We should note that we've actually learned a lot from The Hoth's SEO strategy (which is outlined below), including their viral content simulating 'volume module'… Which in turn, has allowed us to dominate in ranking for certain competitive searches within the organic search listings.
We're confident that The Hoth will deliver results for our newest case studies!
However, in the mean-time, take a read of the article below, which shows the results of our Hoth X case study from around November 2017 – March 2018.
What's the deal with SEO Services?
There's no denying that there is a growing number of high-level SEO service providers scattered all over the internet, thanks to the increasing number of people who run business' and companies that subsequently want to increase their organic search visibility.
Whether or not these companies or individuals are looking to directly promote their products/services or just a top-level marketing funnel asset, digital marketing (in particular SEO) is the most attractive and beneficial ways to help with this, providing long-term free traffic.
Upon doing research, we found that one of the major players in this SEO service league is The Hoth… but who exactly are they, and what do we think about their SEO services?
The Hoth Review: Who are The Hoth?
The Hoth is a white-label SEO solutions provider that specializes in selling their SEO packages to individual consultants and other agencies who then resell these services to their clients. It's also used by businesses and organizations looking to get experienced SEO services, for discounted prices.
Their delivery portfolio includes crafting press releases, on-page SEO optimization, coming up with guest posts, Local SEO optimization/citation work, high-quality link building and blog posting. We've featured a list of the SEO services that The Hoth provide, which is further down this page, with links to the particular service page.
However, let's discuss the company a little more…
The Hoth market themselves as a one-stop-shop for anyone looking to turn around their online profits through SEO optimizations. But are they worth that extra dime that they charge for their work? In other words, are they any better than the next hyped 'SEO service expert'? Well, let's have a peek.
First of all, we've used some of The Hoth's SEO packages to rank other affiliate websites, just take a look at the screenshot below… I was lucky enough to sign up to their Hoth X 500 package, and get a free Hoth Private Vault backlink from an extremely reputable website… which transformed my rankings within around 4 months.
And whilst I use them less nowadays, as I'm an experienced SEO myself, I have taken influence from The Hoth's service techniques and methodology.  So it definitely works, but then, I could have just been lucky, right?

The website above is now (as of January 2019) bringing in around 25,000 monthly visitors.
Well, from taking a look at the reviews (featured below) that The Hoth gets on a regular basis, it's clear to see that they get results for the majority of their clients. I mean, getting 5* reviews all the time emphasizes the professionalism of the company.
Look at their most recent reviews on their review page: Latest Customer Opinions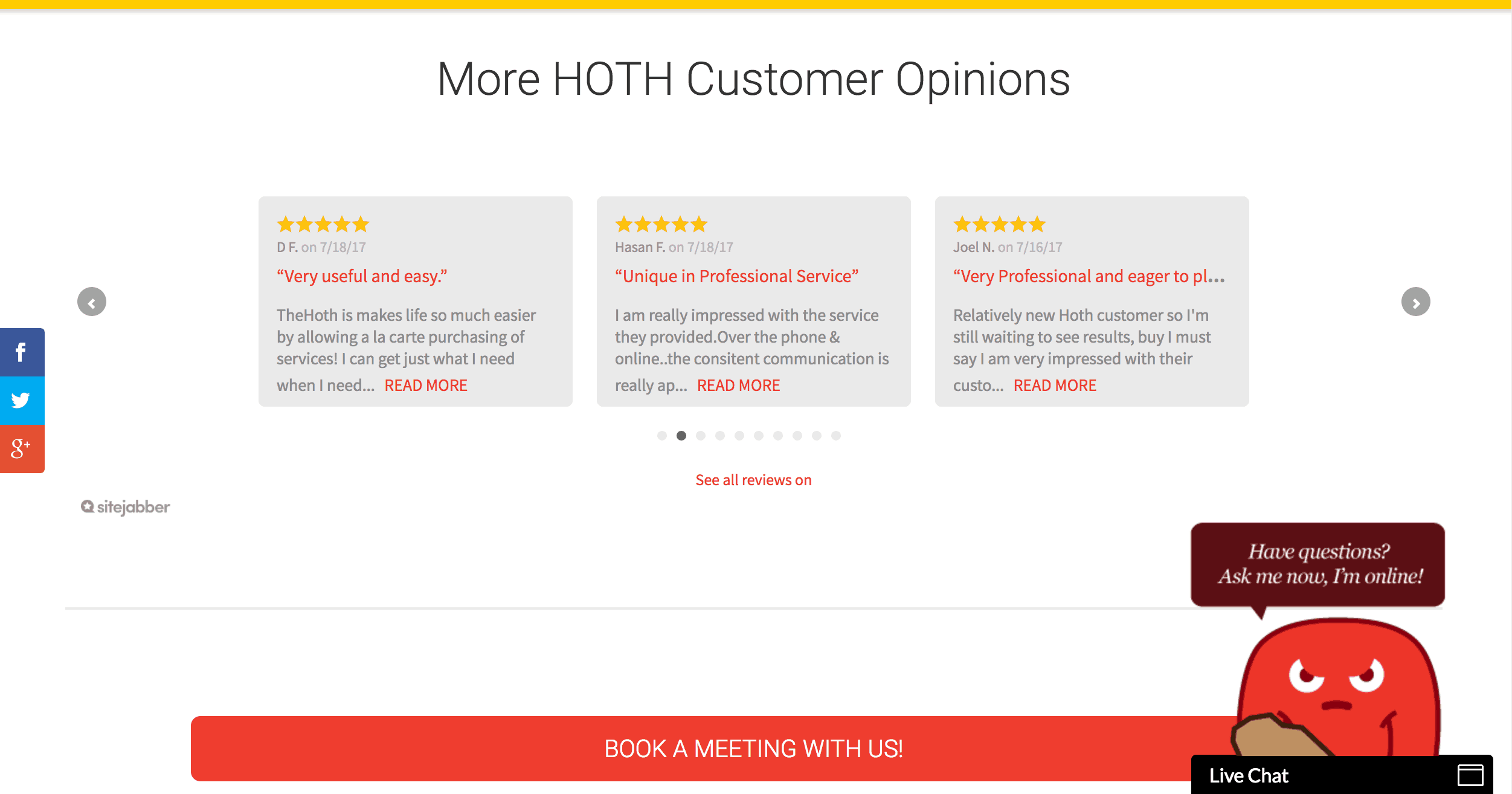 The Hoth SEO – A Broad Range of Services
Looking at it from a general perspective, The Hoth has a broad range of SEO-related and SEO-focused services that any online entrepreneur can benefit from. And if you're looking to get your SEO campaign off the ground ( for instance when venturing in a very competitive keyword niche ), you will need such SEO gurus to help you break the ground.
Unlike other service providers who prefer communicating via email and text messages, you can schedule a live consultation appointment with The Hoth via a voice call if need be. This way, it is easier ( and even feels more personalized ) to discuss your target keywords with them. What's more, they are also likely to assign you a dedicated account manager who is going act as your go-to company rep whenever you need to order a new service or if you require any help with your keyword's visibility.
The Hoth also have a special Live Chat Function on their website [As seen below], where you can speak to an SEO specialist instantly, where you can discuss your business' requirements and the most suitable SEO package for your needs can be discussed and prescribed.
As for the breadth and scope of their services, The Hoth have sub-divided their service delivery into 12 different substructures (as shown below). This puts them in a better position to narrow down on the exact type of service, module, or help that a prospective client needs.
The Hoth's SEO specialists will match the service required for your needs so that you achieve the results that you want.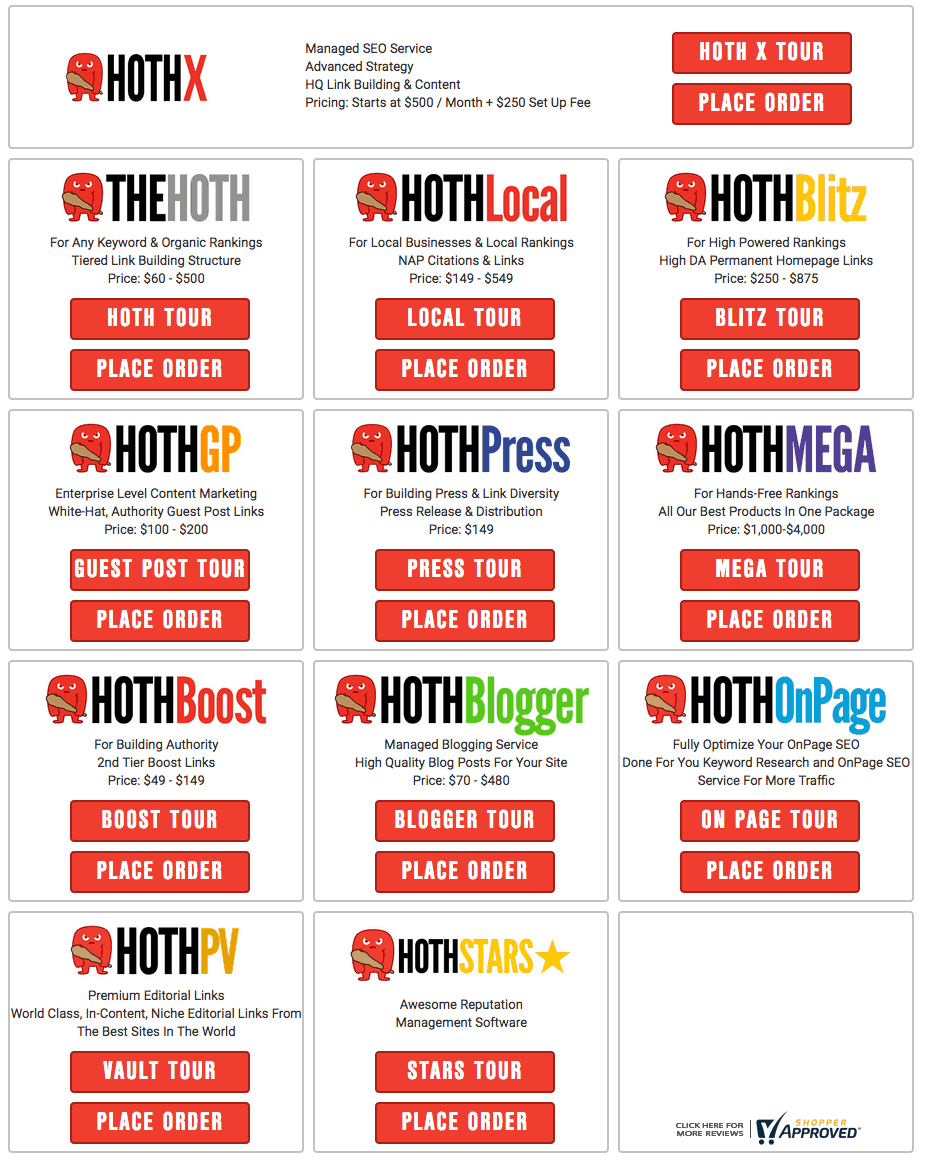 The Hoth's variety of SEO services: https://www.thehoth.com/services/
For instance – just to give you an idea of what this entails – the Hoth's primary service circumscribes the essentials of link building and keyword visibility in leading search engines. All you need to do here is give them your keywords, the accompanying anchor texts, and tell them the number of links ( and the desired quality ) that you want to be redirected back to your blog or website.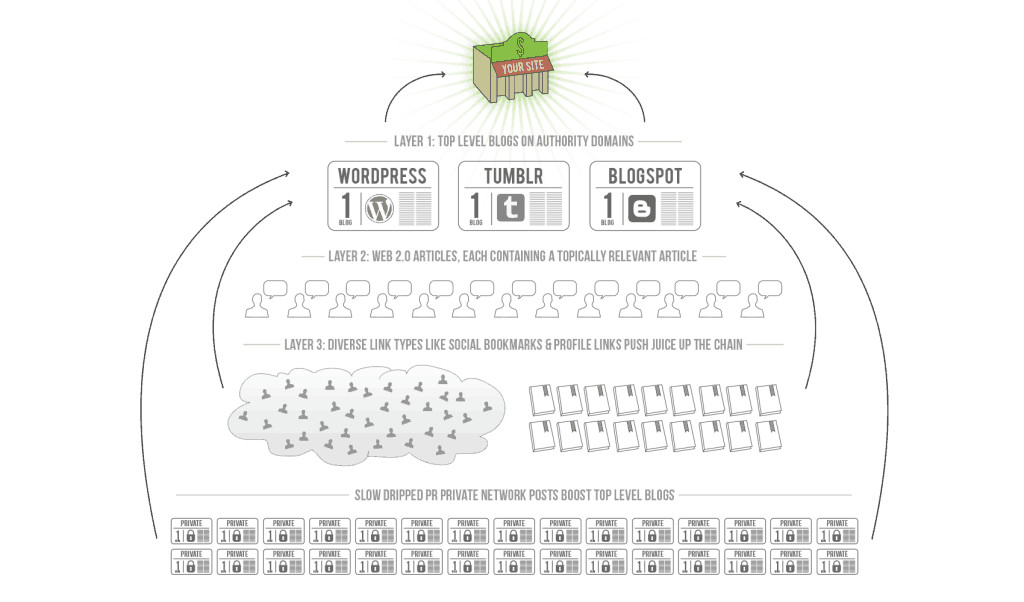 Also, just like any SEO service provider worth mentioning, The Hoth also specializes in Web 2.0 setups on behalf of their clientele.
In simpler language, they will build up a series of Web 2.0 sites solely for your site and later link the juice from their high-quality 2nd tier links, e.g., social bookmarks to boost these keywords.
The link juice is then channeled back to your money site hence promoting your target keywords' visibility. Although you're not likely to witness a major improvement immediately while relying on such a strategy, the ranking of your site ( as far search engine algorithms are concerned ) is likely to shoot up in time, these links provide a long-term investment.
Besides, these links from The Hoth are additional supports to another high-quality backlink that you already have on your site, say from a guest post or product promotion launch. All said and done; it does not hurt to have a blend of links on your main money site especially if you're looking at things from the long term perspective.
Having said that, a close assessment of some of their previous customer's reviews suggests that the local citation clean up service that the company offers is well-above average. Now, considering that most SEO experts struggle with this dicey aspect of search engine visibility, it is safe to say that The Hoth has a lot going on here. Their clean up does not rely on a relationship with a single data aggregator, but rather, multiple citation sources and an array of aggregators in an effort to boost a client's rankings.
This is arguably your best bet if you're looking for an almost immediate boost in your keywords' ranking in your immediate locale. And the fact that they utilize tracking lines instead of the traditional linking of data aggregator implies better consistency within the listing, and as expected, high rankings in the local map pack.
Pros of The Hoth SEO Services
The Hoth excels exceptionally in the following
1. The Variety of Services on Offer – Like an established SEO firm, they have a broad range of specialized SEO services – from Local SEO visibility to guest posting.
2. They employ a relatively easy-to-use dashboard. Tracking previous orders and downloading reports is next to seamless. They also have a fantastic Live Chat function, where you can discuss all of your business' SEO needs, and an SEO will prescribe the most suitable Hoth package to match your requirements.
3. They are a 100% white-labeled SEO service provider. Therefore, no illegal black hat underhand antics ( a few SEO firms are notorious for this ) and you don't have to fret over branding issues when ordering their services.
4. They offer an attractive 12.5% discount to buyers of all bulk orders.
5. The Hoth is among one of the few SEO companies that offer free consultation sessions to serious prospective clients. And this has gone a long way in helping them secure long-term contracts.
The Downsides of The Hoth SEO Services
Now, although there are not many downsides to The Hoth's SEO services, we want to give an accurate representation of the services within our 'The Hoth Review' article… So here it goes!
The company prides itself in offering a broad range of premium SEO-related services. They will provide a free consultation session, but the general price of their services make them somewhat expensive. Just to give you an idea; they charge approximately $70 for a single blog article with relevant on-page SEO. Now, in comparison to what ( any of the thousands of ) freelance writers charge for the same kind of service, it will be cheaper to use a freelancer on the likes of iWriter.
However, for that little bit extra that you're paying, you're receiving a considerable amount of value, with all of the work being checked over by an editorial team before being distributed to the buyer. Hence, the quality of the services is undoubtedly exceptional, and therefore if you're looking for a hassle-free experience, to get high-quality SEO and content creation services, The Hoth is the place to go!
In Closing – What's the verdict of The Hoth's SEO Services?
The Hoth represent a new breed of SEO service experts that specialize in offering almost all services under one roof. For this, there are highly recommended to novice internet marketers, bloggers, and start-up e-commerce webpreneurs that are looking to take their online enterprises to the next level.
We hope that you've found this article, The Hoth Review, very informative and that you're able to go about finding more about the particular SEO solutions that will help your business/website succeed.
Find out more information on their website, featured here: thehoth.com
Summary
Reviewer
Review Date
Reviewed Item
Author Rating